Floor Care and Cleaning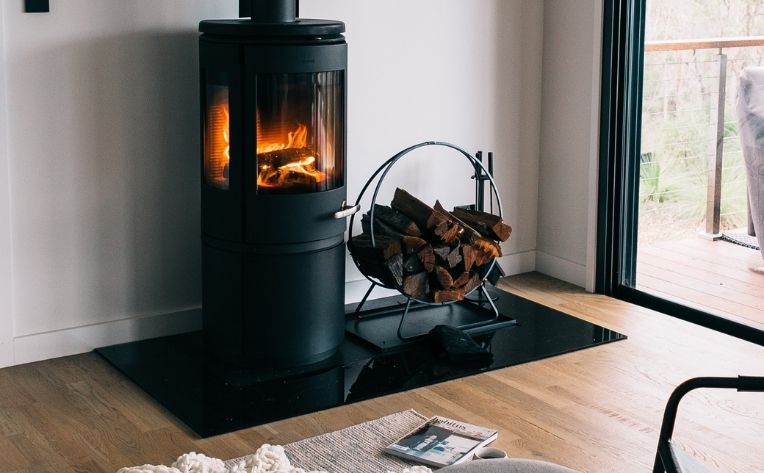 Dec 28, 2020
While the winter season can sometimes have its drawbacks (Does the sun really set this early each day?), it's also a special time of year for so many. From more time spent indoors with family, to fun outdoor activities—that can often track in some extra wetness from outside—there is something for everyone to look forward to during the winter months. And, if you're looking for winter-friendly flooring, there are a lot of great options for this special time of year.
Tile with a Twist
Beautiful ceramic tile in bathrooms is many a homeowner's dream, but once the colder months hit, the feeling of cool tile on one's feet can be anything but soothing! Investing in heated floors can be the perfect solution. While this can sound like an expensive project, radiant heat systems, once installed, are actually quite cost-efficient in the long term. And once you start with a smaller project like a bathroom and see (and feel!) the results, you may end up wanting to install radiant heat floors in other areas, too.

All about Layering
Colder temperatures mean more long sleeves and sweaters in one's wardrobe, and the same theory goes for your wood floors. This is a perfect time to experiment with laying a series of rugs or decorative carpets across your wooden floors. Not only does this create visual texture and coziness, your feet will thank you—especially if you're not wearing socks!

The Perfect Time for New Carpets
If you've been holding out on purchasing a new carpet—or are thinking about making an upgrade to an existing one—there's no better time than the winter months to make it happen. A soft and cozy new carpet is a great way to make a room even more inviting during the winter months. Whether it's for a bedroom, living room, game room, or den, consider how comforting a brand-new carpet could be in your home during the year's chilliest season.

Winter Wear and Tear
If you happen to live in an area of the country where snow, slush, and general winter debris is the standard (including those ever-fun rock salt stains), having durable floors is a must. Whether you go the route of long-lasting laminate floors or durable luxury vinyl, there are so many flooring options. They make a great fit for homes with lots of damp, dirty shoes trudging about. And, of course, many hardwood floors are now waterproof, too. Just remember, no matter what flooring option you choose, maintenance during the winter months is key to preventing long-lasting damage from moisture and seasonal wear and tear.

Explore Your Winter-Friendly Flooring Options
The winter season brings forth an abundance of weather to different parts of the country, but no matter where you are, it often means more time spent indoors—and that makes it a wonderful time to connect with those you love. Contact your local Flooring America to learn all about their wide selection of options for winter-friendly floors so you can bundle up this season and stay cozy.
Continue Reading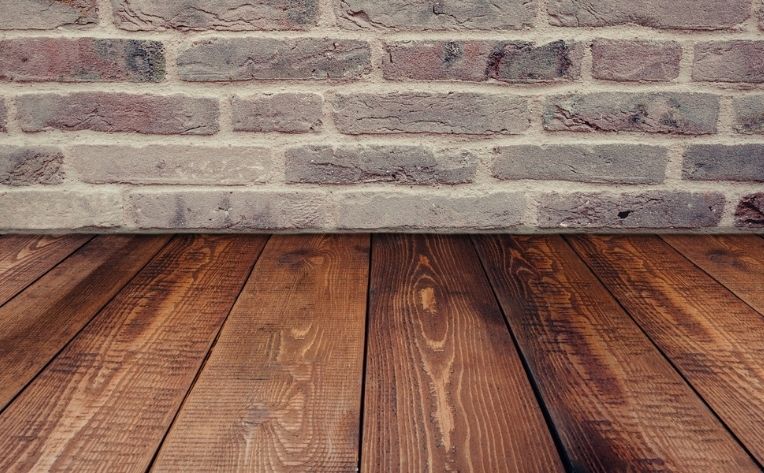 Dec 23, 2020
The health and safety of your family is an important priority. And when it comes to what kinds of flooring you purchase for your home, there's a connection. Thankfully, there are many types of flooring (and overall care strategies) available, from hypoallergenic flooring options, to ways to keep your family as germ-free as possible, that can help put your family's health first.
Kick Germs to the Curb
Keeping your home germ-free is top of mind for most folks these days. Whether you have toddlers running around, your parents living with you, or if you're simply looking for the peace of mind of knowing you have healthy flooring, the Neutralize™ system is a great fit for your needs. Offered by many Flooring America stores, and available with any new floor installation (and also as a floor refresh!), Neutralize™ will eliminate 99.9% of viruses, including COVID-19.

Healthy Hardwood
Many families also struggle with the pesky—and downright stressful—issue of allergies. Hardwood floors are the perfect option if you happen to be a household of allergy sufferers. Removing dust, pet hair, and other allergens is extra easy with hardwood, and a surefire way to keep the air quality in your home clean and safe.

Dry and Dandy
The issue of extra moisture in a home is also something most people want to avoid. Fortunately, there are many flooring options available today that help with this particular headache. Flooring America, for example, has a wide selection of waterproof and water-resistant flooring options. So whether you're in the market for waterproof and stain-resistant tile, luxury vinyl, laminate, or hardwood, you're bound to find the right flooring fit that will keep additional moisture at bay.

Carpet Cares

Carpet manufacturing has evolved in the past few decades, and carpet is now another great fit for those looking out for the health of their family. For instance, many Flooring America stores now offer carpet options like Innovia Extreme Clean™ carpet, which is crafted using cutting-edge Innotex™—a natural-based fiber offering an incredibly plush feel. It's also good to remember that with regular vacuuming and cleaning, carpets won't build up dust and other allergens.

Help Is Available
Flooring materials and installation practices have come a long way, and when it comes to health concerns, many flooring manufacturers now have multiple options to fit your particular needs. Contact your local Flooring America today to learn all about their choices for healthy flooring options—as well as best practices for installation—and find the fit that's best for you. It's possible to have comfort, beauty, and peace of mind. You and your family deserve it.
Continue Reading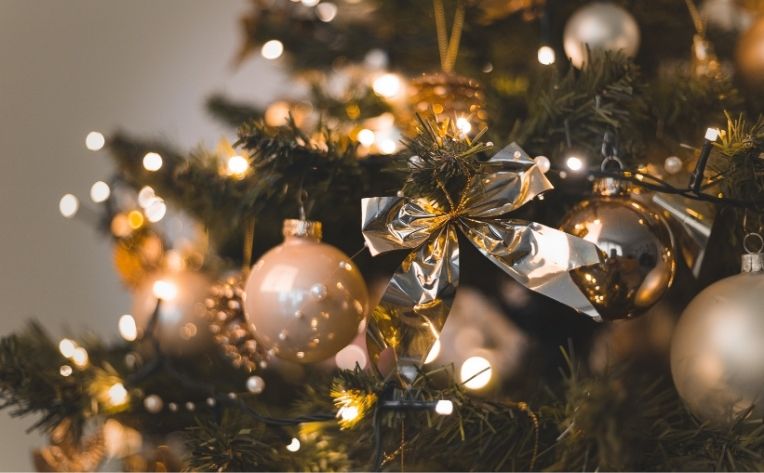 Dec 16, 2020
The holiday season is upon us, and if your family loves having a real tree in your home, you are most likely enjoying the amazing fresh scent and beauty that comes with it. (Nothing against those who go for fake trees, of course!) However, we all know there's one major drawback to these all-natural trees: pine needles. All over the carpet. Embedded in the fibers. Thankfully, there are some tricks to keeping your carpet clean.
Tree Skirts Work
The traditional tree "skirt"—a large piece of fabric that wraps around the base of your tree—exists for a reason, and it's not just for decoration. A lot of pine needles end up shedding onto the area directly below the tree, so having a tree skirt as a buffer between your tree and carpet is a great way to catch the majority of them as they fall. Just be extra careful when picking up the skirt, because those needles like to escape.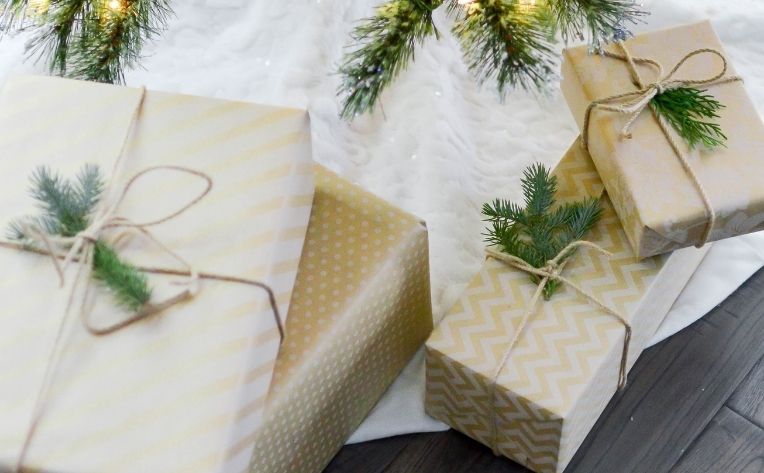 Sappy Story
Maybe the trickiest part about dealing with pine needles on your carpet is when they have sap on them, which essentially glues them to the floor. To remove these peskiest of pine needles, apply a detergent solution to the area, mixing together ¼ teaspoon of a clear, non-bleach dishwashing liquid with one cup of warm water. Or, you can use some nail polish remover to loosen the sappy needles. Then a stiff brush should help to move the stubborn needles that won't budge.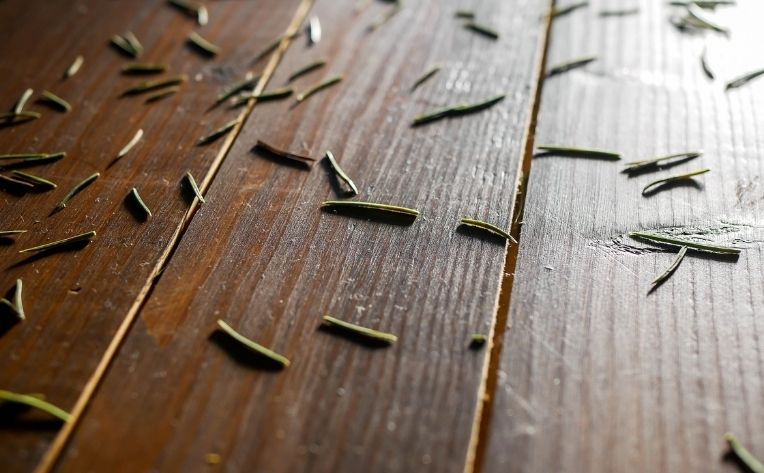 Vacuum Power
Once you've removed any pesky, sappy needles, it's time to clean up the rest of them. Whether you prefer to first do some sweeping with a broom and then switch to a vacuum, or just start the whole process with a vacuum, the choice is up to you. Just make sure that when you begin to vacuum your carpet, your vacuum is set to the highest level it can be on.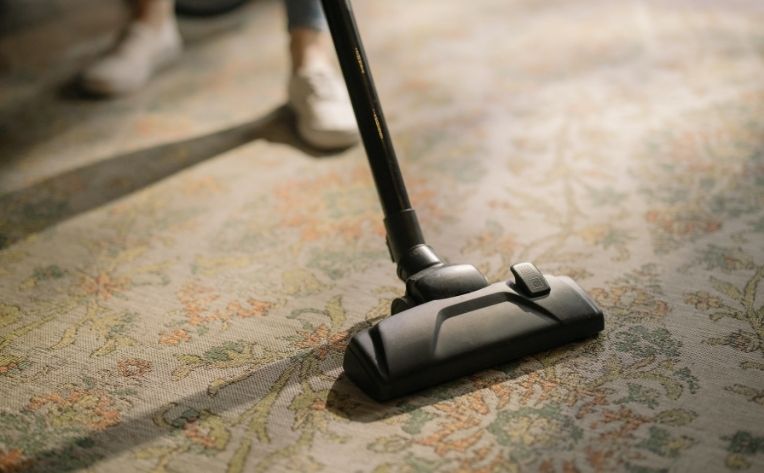 Duct Tape Fixes Everything
When you've done all the steps above to pick up pine needles, and there are still some on the carpet, it's time for the universal fix-it tool: duct tape. Just wrap some—sticky side out, of course—around your hands and press onto the carpet. This is not only an easy solution to getting those stray pine needles up, but it's a fun activity for kids, too. Just tell them there's a candy cane in it for them. And during the holidays, that sounds like a win for everyone.
More Questions?
For many families, having a fresh tree in the home is a tradition they look forward to all year—as is enjoying their cozy and beautiful carpet. Thankfully, both can co-exist. And, of course, your local Flooring America is always there to answer any questions you may have about carpets—during this holiday season and into the New Year.
Continue Reading
Dec 02, 2020
Nothing brings a party to a screeching halt faster than a spilled glass of wine. Or, when you're enjoying a glass of red wine at home and your wayward hand (or pet, or child) knocks it over. We've all heard some of the old tricks to getting these truly stressful stains out of either carpets or wood floors, but what should one really do when the inevitable happens? First things first: stay calm. Here's the expert advice.
Soak It Up
The first thing is often the most important thing, and with red wine stains, it's no different: soak up that stain, fast! Remember, dab—don't scrub. Whether the red wine stain is on a carpet or a wood floor, the sooner you can absorb any of the excess spilled wine, the better. It's never good to have the wine sink further in to the carpet fibers or wood. So get a cloth on top of that stain, ASAP.
Carpet Cleanup
For red wine stains on carpet, diluting the stain is critical—but it can also be tricky. The key is to carefully pour only very small amounts of water on the stain as you continuously blot the stain with a clean, dry cloth. It's important not to pour too much water on the stain at once. Your goal is to dilute the offending liquid, but just enough so that it doesn't spread any farther.

Next Step: Removal
Once you've diluted the stain on your carpet by soaking and blotting, the next thing to do is check with your specific carpet manufacturer. (Carpet characteristics can vary widely, and your manufacturer will likely have specific notes about how to deal with this particular kind of stain.) Once you have that knowledge, you can confidently move on to removing the stain.
Baking Soda Solutions
Some folks swear by a DIY option of baking soda for stain removal. Make a paste of baking soda and water, using a ratio of three parts baking soda to one part water. If you go this route, apply the paste to the stain and let it dry. Once it's dried (and ideally soaked up much of the stain), vacuum up what's left. After this point, if there's still a visible stain, apply a carpet stain remover product approved by your floors' manufacturer to the area.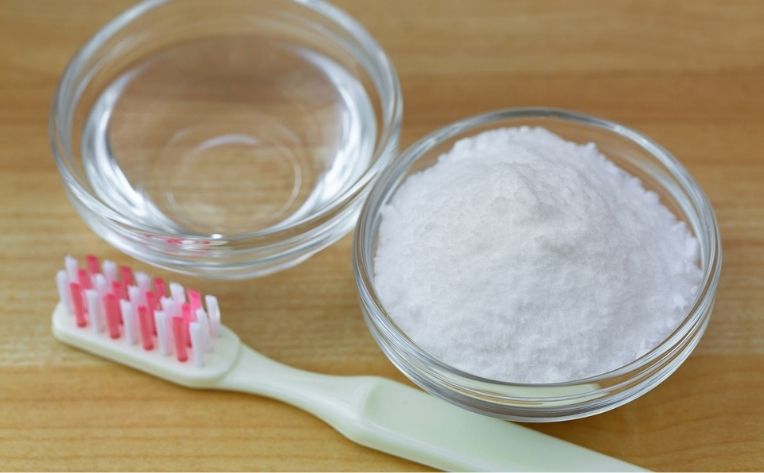 Wood Floor Woes
If your red wine spill happened on a wood floor, the process is slightly different. After you've soaked up the excess wine, try using an oil soap, such as Murphy's, mixed with water, and then scrub the floor surface so that, ideally, the stain lifts. Another DIY solution is to mix some baking soda with mineral oil, and then rub the paste on the stain. After about a half hour or so, remove the paste with a dry cloth. (As always, before using any DIY solution on a wood floor, contact your flooring manufacturer first!)

Calling in the Pros
Sometimes, whether the stain is on your carpet, or your wood floor, there's a chance that you may need to call in the professionals—especially if the stain has managed to set. Professionals can deep clean your carpet, or professionally re-sand or replace a part of your wood floor. Hopefully, your stain didn't set in for long, and this won't be necessary, but it's good to know that calling on the pros is always an option.
Need Help?
Don't let the idea of a spilled glass of red wine ruin your idea of a calm night—or fun party. By acting fast when spills happen, it most often means that the stain will not be there forever. As always, you can reach out to your local Flooring America with any questions about what to do with stains on your carpets or wood floors. Stains happen to everybody, and your local Flooring America is here to help.
Continue Reading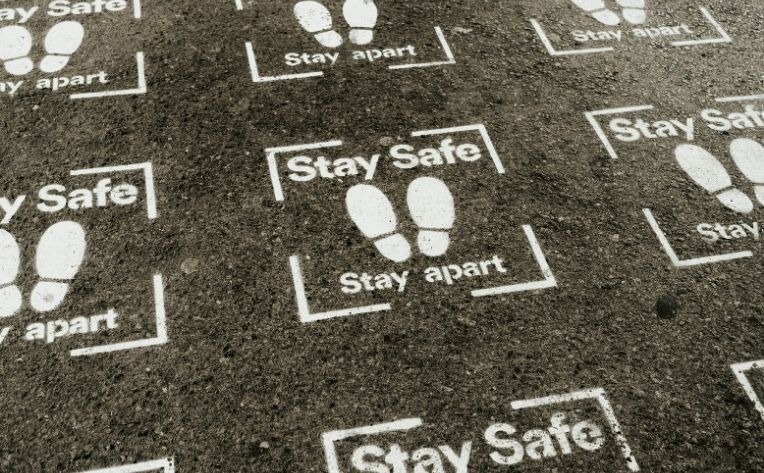 Nov 23, 2020
The COVID-19 pandemic has upended so many facets of our lives this year, and shopping is no exception. Thankfully, many companies, including Flooring America, are adapting for the better by implementing smart and rigorous safety protocols that allow you to continue enjoying your shopping experience. Here are some of the many ways stores like Flooring America are serving you in today's world.
Smarter Showrooms
Currently, many stores are limiting the amount of customers into their businesses and showrooms to a smaller number than usual. This not only makes the shopping experience safer for all involved, it leads to a more focused and attentive experience overall. And, of course, businesses are making sure that everyone inside—from customers to staff—wear masks and adhere closely to the six-foot social distancing standards recommended by the CDC.

Cleaning—with Rigor
Even before COVID-19 hit, having a clean store or showroom was a no-brainer. But now, more than ever, cleanliness is a huge priority for businesses, and therefore stores, including Flooring America locations, have adapted rigorous cleaning protocols. Whether it's proactive sanitization between customer visits, or following closely to all of the CDC's guidelines, keeping stores and showrooms safe and germ-free has never been a bigger priority.

Intelligent Installs
Though we are living in unprecedented times, home updates and renovations continue—which means beautiful new floors still need to be installed! So whether you have an at-home measurement on the horizon, or new tile or hardwood floors scheduled to come in, rest assured that your local flooring company is taking extra precautions. Many Flooring America stores are now using a new installation program called NeutralizeTM, which helps to eliminate 99.9% of viruses, including COVID-19, during installation. Employees are also working to disinfect their vehicles regularly and following all safety protocols to make sure the at-home experience is as safe as possible for both customers and staff alike.

At-Home Ease
Many companies are adapting to these new times with innovative solutions for those who feel that they'd rather shop from home. Flooring America allows customers to order sample boxes and have them delivered right to their doorsteps—you can get up to six new samples to try out, all from home! Flooring America also has an online room visualizer tool available, so you can see a preview of how the new floors will look in your home.

Making Flooring Showrooms Safe During COVID-19
Knowing that so many companies have the health and safety of you—and their staff—in mind should bring some much-needed relief during these stressful times. We're all in this together, and at the end of the day, health and peace of mind are the most important things. While Flooring America is committed to doing all they can to keep you and your family safe, it is recommended that you contact your local store to understand their specific procedures as COVID-19 guidelines vary from state to state.
Continue Reading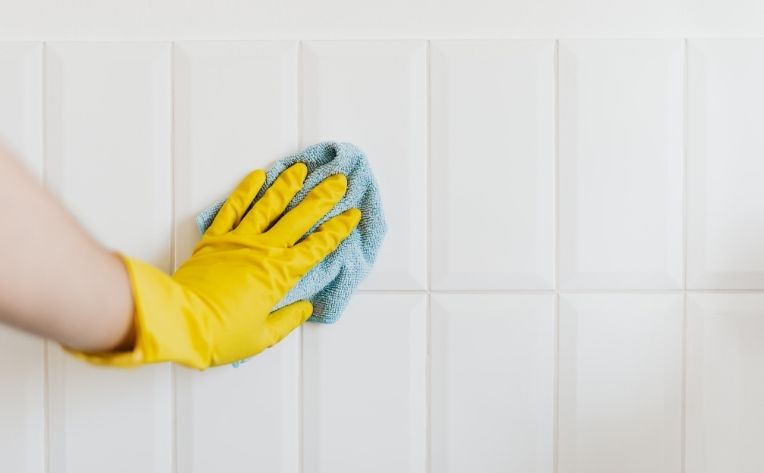 Nov 18, 2020
Beautiful tile floors are a homeowner's dream. Whether they're located in your kitchen or bathroom, made out of ceramic, porcelain, or luxury vinyl tile, many find attractive (and durable!) tile the perfect flooring fit for their homes. It's also one of the best low-maintenance flooring options around. Still, as with any floor, cleaning is inevitable. Here are some tried and true tips for how to keep your tile floors clean, with as little stress as possible.
Seize the Spill
It may seem like common sense, but it's important to remember that spills need to be cleaned up fast. With tile floors, regular maintenance is the biggest key to avoiding headaches down the line. Frequently cleaning your tile floors—first sweeping, then vacuuming, and occasionally mopping—means that you won't have to worry about stains setting into your tile or—even worse—your grout.

Glowing Grout
Speaking of grout, there's nothing like the sight of dirty grout to take the sheen off the beauty of your tile floor. Grout that hasn't been properly cleaned or maintained is a real eyesore, but it doesn't have to be that way. The answer? Sealant. Sealing your grout allows it to be resistant to those pesky stains.

Brush Your… Floors?
A great DIY grout cleaner involves mixing water and hydrogen peroxide in equal parts. Then grab a small brush (an old toothbrush is perfect) and scrub away. This simple method should work like a charm. (Though, of course, be sure to consult your Hard Surface Care & Warranty Guide before any cleaning of your tile floors.)

Homemade Clean
Speaking of DIY grout cleaner, lots of folks these days are into using homemade cleaners. Not only can they often be safer, but the DIY aspect of mixing up your own cleaner can be fun and inexpensive. Another great option for a homemade cleaner for your tile floor needs is combining a cup of white wine vinegar with a gallon of water when you do your mopping. This mixture helps clean, naturally get rid of odors, and won't break the bank. (Again, for best results always refer to the manufacturer's cleaning instructions.)

Marble or Stone Tile Flooring
If you own a home with marble or stone tile flooring, scratches can happen in some cases. Some types of tiles are more sensitive to cleaning agents than ceramic or porcelain tiles are, and many do not recommend DIY cleaners on these more sensitive surfaces. A more balanced pH cleaner from a product specifically made for marble or stone tile flooring is your best bet here.

How Best to Clean Tile Flooring... and More?
Now that you have some tips and tricks for how to clean tile floors, why not think about sprucing up your kitchen or bathroom with some brand-new tile? Your local Flooring America has countless tile options for every budget and area of your home. Your low-maintenance and easy-to-clean floors await.
Continue Reading