News and Technology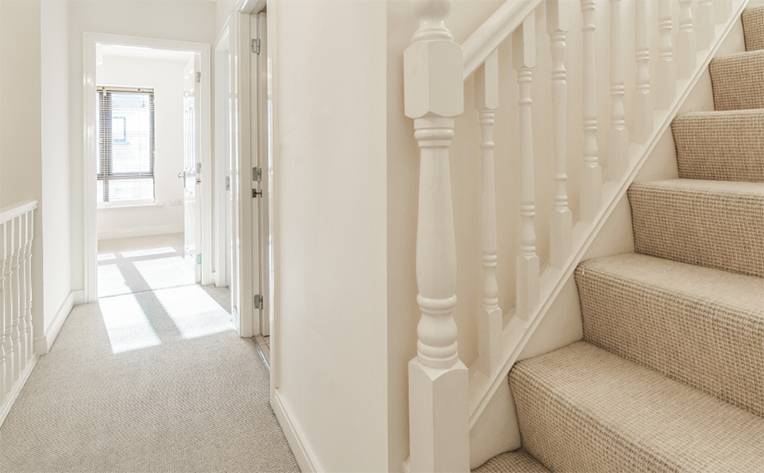 Apr 06, 2020
Installing a carpet might seem simple — at least when you have a flat surface to work with! However, thanks to their 3-D design, staircases call for some extra planning. We're about to answer all of your design FAQs, including what type of carpet is best for stairs, and how to choose the right carpet for your staircase. We'll also cover options that work well with high-traffic stairs, which call for carpeting that is able to resist matting and flattening.
No matter what type of staircase (or staircases) you'll be carpeting, this easy-to-follow guide will steer you in the right direction. If you're ready to learn the basics, let's jump in and get started!
What is the Best Type of Carpet for Stairs?
What is the Best Carpet for Stairs?
Thanks to decades of technological innovation, modern carpets are constructed from sturdier, more resilient, and easier-to-clean fibers than were available to past generations of homeowners. Most carpets are suitable for everyday staircase use. However, we do recommend that you refer to the design of carpet when making a selection.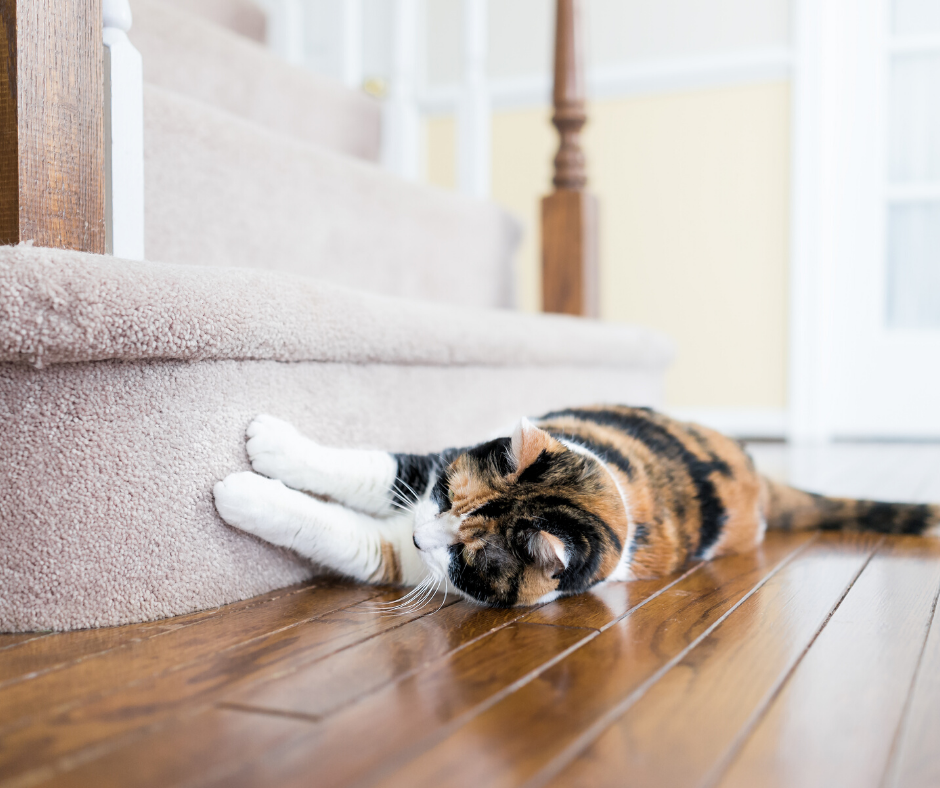 How to Choose Carpet for Stairs
When choosing a carpet for your staircase, it's important to look for textures and materials that will repel soiling and resist flattening. Also, consider warranty options regarding staircases. Here are a few popular options to consider.
Low-pile

A low pile carpet refers to the height of carpet fibers. Carpet fibers can be twisted together to create a cut pile or woven in a loop pattern. A low pile carpet is recommended due to how the carpet is laid on a dimensional surface. A high-pile carpet will not fold over the curve of a stair the same as a dense, low pile carpet. Our brand, Rival by Resista, has an excellent selection of trending designs that are backed by our 5 Star warranty which includes staircases.
Carpet Fiber. With the growth of technology advancement in carpet fibers, a strong selection of carpet can be used for a staircase installation. This can range from Polyester to Nylon to even natural fibers including wool.
To learn more about carpet pile, carpet loops, carpet blends, and other style choices, check out our comprehensive guide to carpet types.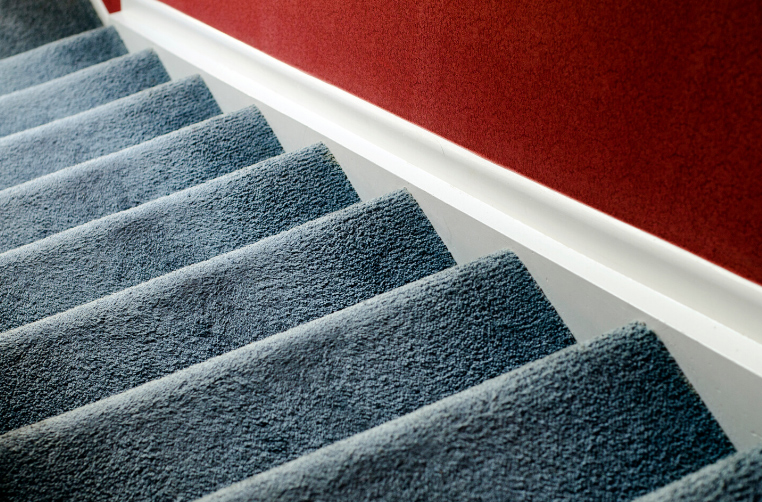 Find the Best Carpet for Stairs at a Flooring America Retailer near You
Whether you are in search of a trendy, eye-catching pattern or you're looking for something simple and functional for everyday use, Flooring America has you (and your staircase) covered.
With a huge assortment of wool carpets, nylon carpets, low-pile carpets, cut-loop carpets, stain-resistant carpets, soil-resistant carpets, and other carpet styles ideal for high-traffic areas, we carry all of today's most popular brands for every budget and taste. Contact us online to learn more, or visit one of our 500+ locations to try out our luxurious carpeting for yourself!
Continue Reading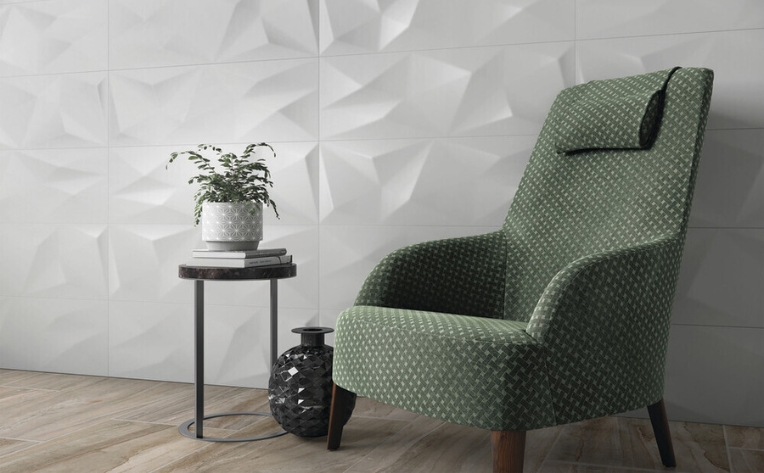 Apr 01, 2020
What comes to mind when you hear "heated floors"? Maybe "too expensive" or "not practical." But actually, it's quite the opposite. In fact, heated floors are both cost-effective and energy-efficient, offering a great alternative to heating your home. And even if you're not ready to pull the trigger on a home-wide install, they're a great addition to a bathroom or kitchen remodel. So, what should you know about heated flooring before making it a part of your next home improvement project?
Every Room—and Every Toe—Remains Warm
Heated floors are a radiant heating system. By directly warming the entire floor surface, heat radiates upward, warming the room above—people and objects included. And with a speedy heat time of 30-60 minutes, homeowners can turn them on and off as needed. Your room temperature is always consistent—and toes, always toasty.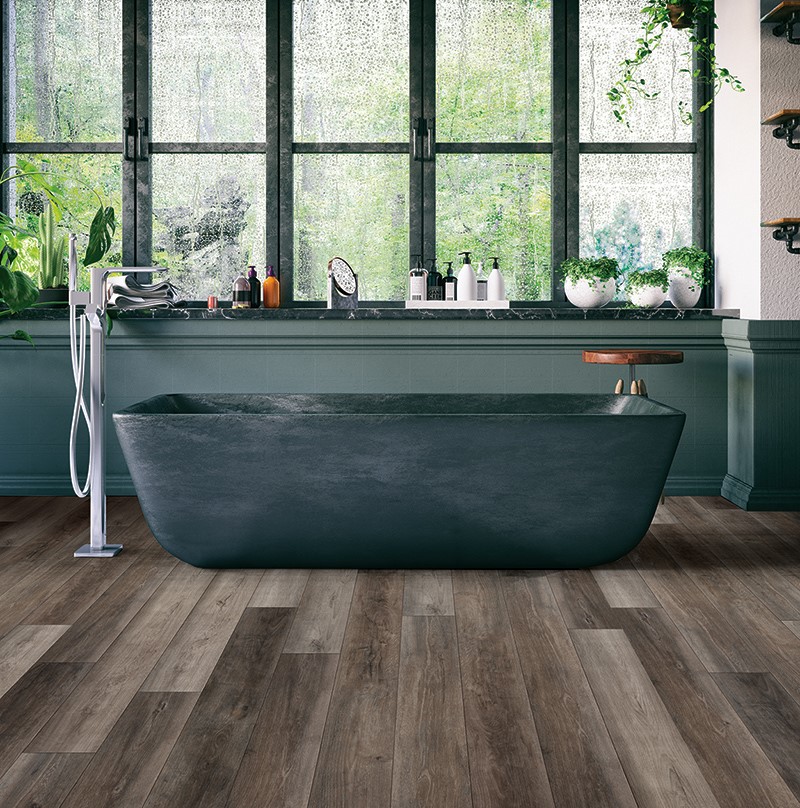 At-Home Allergens Are Reduced
Unlike forced-air heating systems, radiant heat warms its surface directly. And without air blowing into the room, dust and other allergen particles remain undisturbed. It'll save you from sneezing and keep your eyes more comfortable, while maintaining a constant and comfortable temperature.
In comparison to forced hot air, well, there's hardly any comparison. Radiant heat directly heats the building mass itself. Whereas in forced-air systems, energy is lost through pipes upon release into the air. Forced air systems release heat that rises to the ceiling and drops as the temperature decreases, causing an inconsistency in heat throughout the room itself and a loss of heat as it spreads throughout. But with radiant heat floors, the energy has only one place to go—the floors.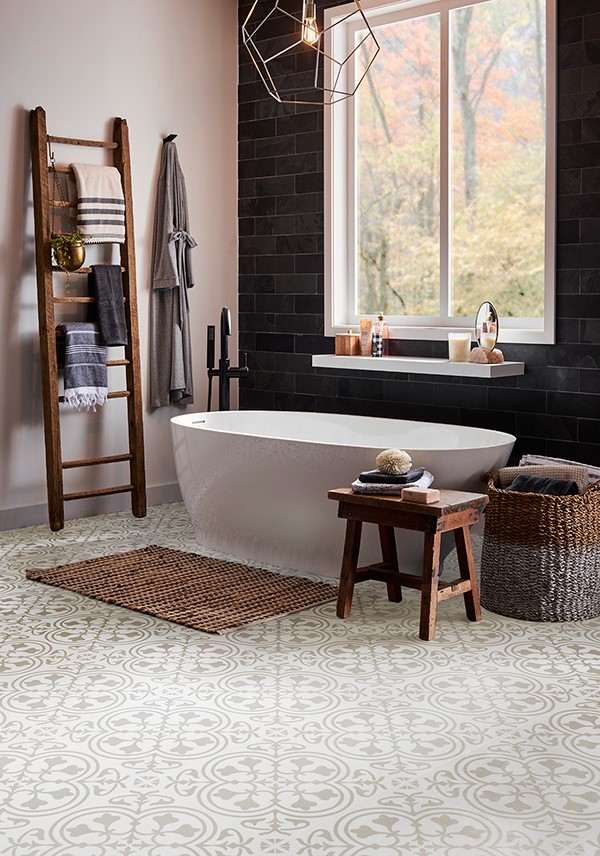 It'll Save You Money
Heated floors sound like an expensive project. But as its popularity has increased, installation costs have decreased. And once installed, heated floors begin to save you money immediately due to their great efficiencies. A typical bathroom will cost you less than a dollar a day to run its radiant heat system. Combined with a higher efficiency and consistency in heat, the difference in heated floors is something you'll feel in your home, and your wallet.
For Your Lifestyle—In Every Style
Radiant heat systems work well with many different floor types—from tile and stone, to laminate and luxury vinyl. So, whether you're starting small with a bathroom renovation, or looking to update the floors throughout your entire home, consider radiant heat.
Want to learn more? Contact your local Flooring America and talk to us about your next project to see if radiant heat installation is right for your home. Your toes will thank you.
Continue Reading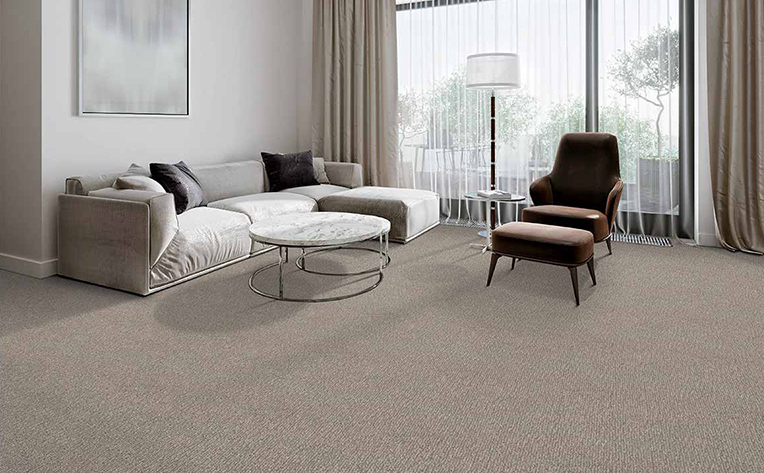 Mar 30, 2020
Today's technology in carpet fibers makes it an ultra-durable choice for flooring. However, there can be slight but fixable issues that may arise with either new carpet or existing carpet that has been in your home for some time. Below, our flooring experts problem solve potential issues.
4 Common Carpet Problems & Solutions to Keep Your Carpet Looking Its Best
Problem 1: Carpet Shedding
The Problem: You just bought a gorgeous new carpet. The only issue is, you notice fibers in your vacuum. No fear, this is something that can occasionally occur in new carpet installations.
The Cause: It is possible that a brand-new carpet can shed. However, new technology in carpet has diminished this factor in new carpet. Any shedding that occurs will be minimal. This shedding could occur during installation when the finishing happens, some of the fibers become loose.
The Solution: Most carpet shedding problems are solved with patience and time.
Problem 2: Carpet Matting
The Problem: Think of "matting" as another word for "crushing" or "flattening." Your carpets once looked plush and fluffy, but now they seem thinned out and stamped on.
The Cause: Matting occurs when fibers in the carpet begin to unravel and lose their original shape, allowing them to be crushed down more easily. High foot traffic and incorrect vacuuming or cleaning techniques can accelerate this process.
The Solution: To solve the issue of improper cleaning or vacuuming, refer to the manufacturer's instructions for carpet care. Also, it may be time to look for new carpet that has advanced in technology to prevent this from happening in high-traffic areas. To learn more about new carpet technology and other styles, explore our detailed carpeting guide.
Problem 3: Carpet Raveling
The Problem: Your carpets are starting to fray and unravel. The issue might be localized to a small area, or you might notice it affecting large portions of the carpet.
The Cause: This can happen with older carpets over time from high traffic or improper cleaning.
The Solution: If the damage is extensive, you may need to have new carpets installed. If it is newly installed, contact your installer for assistance in repairs.
Problem 4: Carpet Buckling
The Problem: Your carpet has an unsightly bulge or ripple, as though forced upward by something beneath the floor.
The Cause: Buckling can be caused by excessive humidity or moisture under the floor.
The Solution: The typical carpet buckling fix involves stretching the carpet to restore its original shape. You may need a new carpet installed. Call your local Flooring America store to find out what is the best solution.
Need to Replace Old or Damaged Carpeting? Visit a Flooring America Retailer Near You
Having problems with an old carpet? Talk to our friendly experts about a repair or replacement. Contact us online today, or visit a Flooring America store near you.
Continue Reading
Mar 23, 2020
Luxury vinyl flooring is durable, tough, and easy to clean, combining superior performance with sophisticated beauty. With features like these, it's no wonder that luxury vinyl is trending with homeowners this year! There are no signs of its popularity slowing down, either — especially not when luxury vinyl has so many versatile uses.
Think a vinyl option might be right for you? Then read on to learn more about some of the hottest vinyl flooring trends for 2020, including trends in luxury vinyl tile (LVT) and luxury vinyl plank (LVP). We'll explore eight vinyl flooring trends to give you a sense of the possibilities, including mixed-width tiles, light colors, and faux stone textures.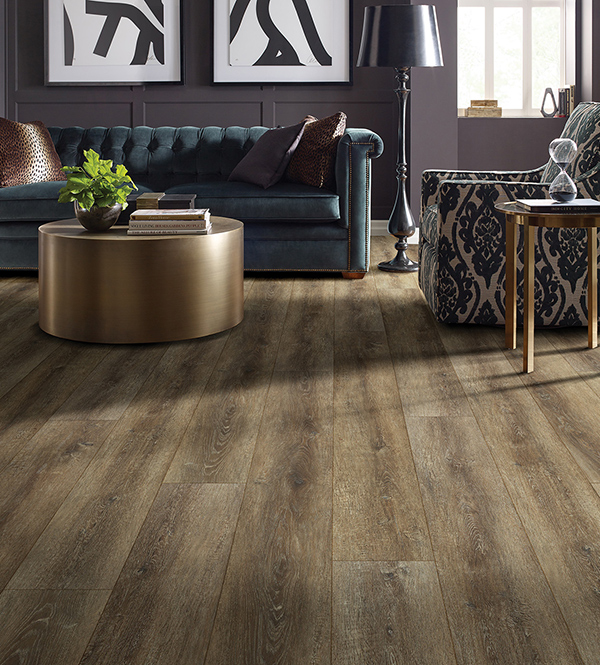 2020 Luxury Vinyl Tile Trends (LVT)
Trend #1: Large Format Tiles
Large tiles instantly create an illusion of space, making them perfect for smaller homes or apartments. Choose shades of white or other light hues to get the maximum effect! Since space (or at least, the appearance of space) will always be at a premium, this is one flooring trend that will never go out of style.
Trend #2: Mixed Width Tiles
Hate uniform, mass-produced looking styles? Then mixed-width tiles are the perfect trend for you. Mixed width tiles incorporate a range of different shapes and sizes, making the space feel more personal while drawing your eye around the room. Mixed width planks are also available, giving you a broader range of mixed-width options to choose from.
Trend #3: Stone-Look LVT
Stone floors have a timeless appeal, expressing elegance, class, and luxury. However, real stone can be costly, especially rare varieties that must be imported or shipped long distances. Luxury vinyl tile masterfully imitates the look of stone, without the additional cost. Not only is LVT typically more affordable than natural stone, but it's also warmer and softer on the feet, offering superior comfort.
Trend #4: Waterproof Vinyl Tile
Maybe you live near the beach, or your kids are always in and out of the pool. Maybe you're redoing your bathroom, where steam and moisture are constant battles. Maybe you've got a messy dog who loves to dribble and drool on the floor.
No matter which of these scenarios you're facing, protect your floors and stay up-to-date with gorgeous, waterproof LVT from trusted brands like Downs® H20. Downs® H20 luxury vinyl tile flooring is 100% waterproof, ensuring time-tested performance and beauty.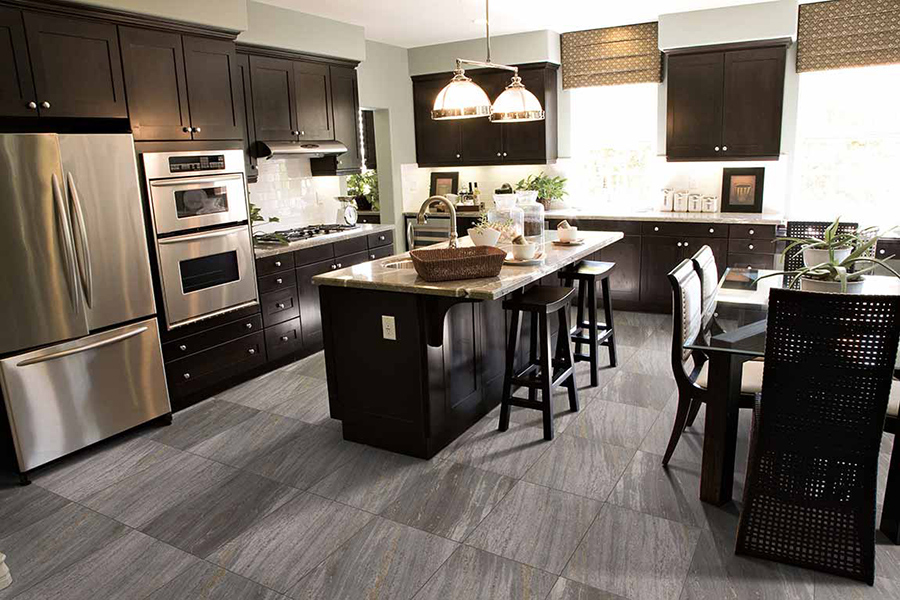 2020 Luxury Vinyl Plank Trends (LVP)
Trend #1: Wide Planks
Go big or go home: that's the spirit of 2020, when wide planks will see a major resurgence. Much like their cousin the large format tile, wide planks create an illusion of space, ideal for small rooms and urban apartments.
If you want your home to have a more airy and open feel (but you aren't quite ready to start knocking down walls just yet), consider wide luxury vinyl planks for your kitchen, bathroom, or dining room. Galvanite flooring is a popular option available in extra-wide styles, creating distinctive looks that will stand up to wear-and-tear.
Trend #2: Wood-Look LVP
Hardwood never goes out of style, but sometimes, it can go out of your budget. Wood-look LVP offers a tasteful solution. Try combining wood-inspired looks with mixed-width planks for a truly trend-forward upgrade!
Trend #3: Light Colors
Pale, creamy colors are expected to make a comeback this decade. Stay ahead of the color curve by choosing light and breezy shades like blonde, white, or honey for your LVP flooring.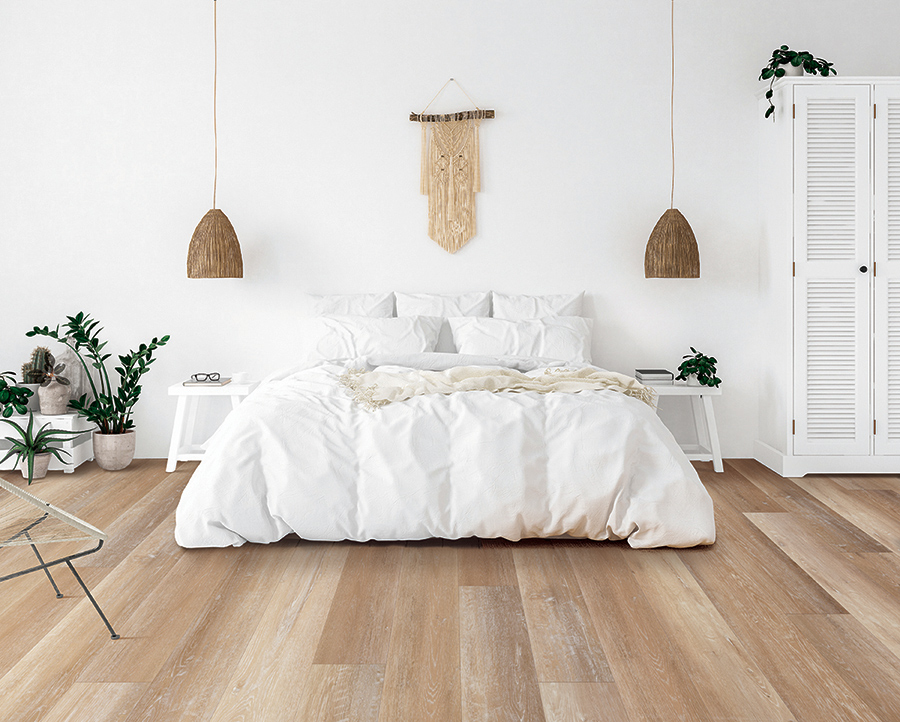 Shop for Leading Brands of Luxury Vinyl Plank & Tile Flooring
Luxury vinyl tile and plank are attractive, durable flooring options with huge "curb appeal" in 2020 and beyond. Whether you're upgrading your home to sell, or treating yourself to a fresh new look, we can help you find the perfect LVP or LVT for your kitchen, bathroom, dining room, or patio. We proudly carry the leading luxury vinyl brands, including Galvanite, Downs® H20, and Spotlight.
Still need inspiration? Explore My Design Finder to see stunning examples of 2020 vinyl flooring trends, or start a chat with one of our friendly team members. Contact us online to get started, or visit Flooring America at one of our 500+ convenient retail locations nationwide.
Continue Reading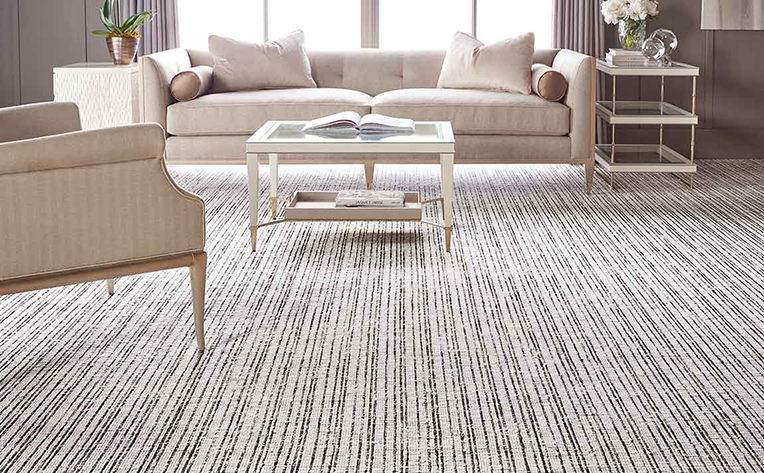 Mar 17, 2020
2020 is here. It's a new year, a new decade, and a new era for home design. Seize the moment and stay in style with tips from our home flooring experts as we explore some of the hottest rug and carpet trends of the year. In this article, we'll take a closer look at wall-to-wall carpet trends for 2020, area rug trends for 2020, and other 2020 carpet trends, including some of the most popular colors and textures. If you're looking to change up your home decor, these on-trend suggestions will help you get started!
Carpet Trends for 2020
Popular Carpet Colors in 2020
Neutral carpet colors like grey will rise to the top in 2020. That's great news for lots of homeowners, since neutral colors are easy to incorporate into any type of style or theme. Whether your style is beach house, Boho, or something in between, it's effortless to coordinate a sophisticated grey color scheme in any room of your home.
Not into neutrals? Then try out another emerging trend: vivid shades of blue. Choose solid colors, funky ombre patterns, or carpets that give you the best of both worlds — as long as they feature a blue (or two), it's hard to go wrong following these carpet color trends for 2020. Here are some of the hottest 2020 carpet colors to incorporate into your bedroom, living room, guest room, or rec room:
Cerulean blue

Cornflower blue

Grey

Iron grey

Navy blue

Pacific blue

Pewter

Sky blue

2020 Trending Carpet Types & Textures
Texture refers to the way that a surface feels (or looks like it feels). For example, low-pile carpets are made using short, tight loops of fabric, which gives them a smooth and uniform appearance. High-pile styles, such as shag carpets, use looser and larger loops of fabric, creating a fluffier, more luxurious texture. Some carpets, known as "textured carpets," are deliberately cut to differing lengths, producing a range of textures on a single carpet.
Since both types have unique features, the choice comes down to your personal tastes and what's most important for you. For example, if you're looking for low-maintenance options, low-pile styles might suit your needs better. A variety of low-pile and high-pile types of carpet are trending for 2020, making it easy to find an option that checks every box on your list of requirements. Some popular carpet textures this year include:
Plush carpets

Ribbed carpets

Textured carpets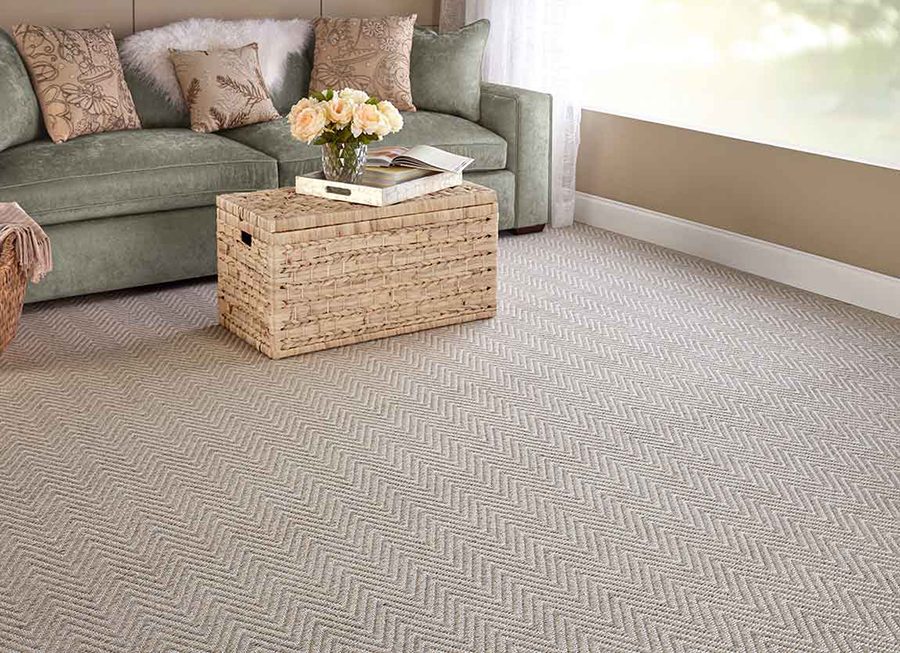 Carpet Styles for 2020
"A carpet is pretty straightforward, right? How many styles can there really be?"
If you've ever wondered similar questions, you're in for a surprise! Carpeting comes in a wide range of styles to suit a diverse range of tastes and needs, from easy-to-install carpet tiles, to waterproof options ideal for pet owners, to environmentally-friendly carpeting made from reused or recycled materials. Whether you're a parent, an artist, an animal lover, or just looking for something that will be easy to clean and maintain, there's a perfect carpet for you. Here are seven of the trendiest carpet categories to explore in 2020:
Area rugs

Carpet tiles

Frieze carpeting (which uses densely-packed, twisted loops to create a choppy, plush surface)

Handmade rugs

Recycled, green, and sustainable carpeting

Wall-to-wall carpeting

Waterproof carpeting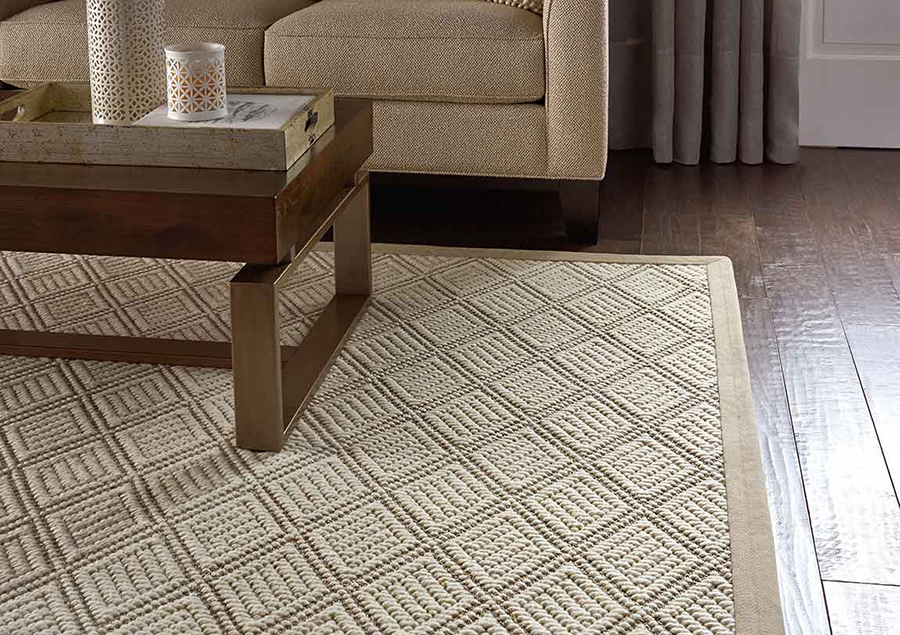 2020 Rug Trends
Unlike carpeting, which generally covers the entire floor of a room, rugs are small, decorative pieces used to cover a specific area. While carpets are fixed to the flooring beneath with adhesives that should only be removed by a professional, rugs can be picked up and moved at will. Lightweight and versatile, rugs can be placed on top of carpeting, hardwood floors, luxury vinyl floors, or any other type of flooring in your home or apartment. Here are some of the hottest rug and area rug trends to watch out for in 2020:
Carpet runners (which are long, narrow area rugs shaped specially for hallways and staircases)

Carpet tile rugs

Handmade rugs and area rugs



Explore Carpet & Rug Trends for 2020 with My Design Finder
Want to know more about what carpet colors, styles, and types are trending in 2020? Explore the possibilities with My Design Finder — your own personalized gallery of home decor recommendations. At Flooring America, we carry all the leading carpet brands, allowing us to make any design dream a reality. Contact us online to learn more, or visit one of our convenient retail locations today.
Continue Reading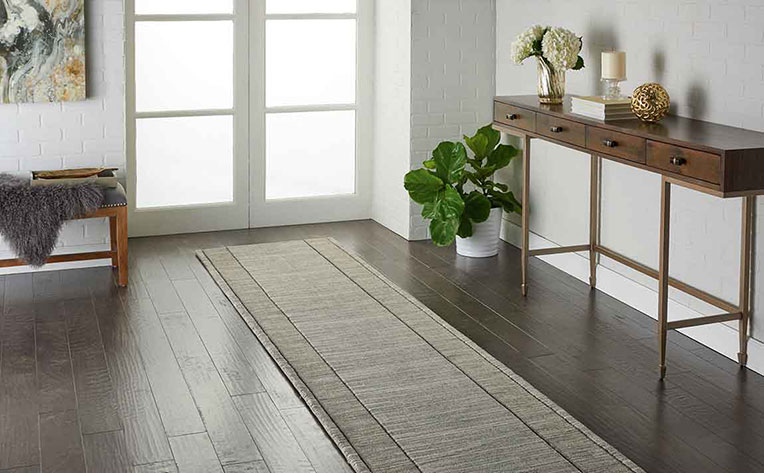 Nov 11, 2019
When you're a homeowner, you're responsible for all sorts of maintenance duties, from dealing with plumbing and heating issues to keeping your chimneys and gutters clean. One area where many homeowners run into trouble is flooring insulation. There's a disconnect between what many homeowners call insulation and what it actually is, this is because what most think of as insulation is actually underlayment.
If you're ready to learn more about the differences between insulation and underlayment and where the two overlap, then let's dive in!
What Type of Insulation Is Best for Floors?
What is Flooring Insulation?
Simply put, insulation is material used to help your home trap heat and retain warmth during those chilly winter months. If you live in a hot climate, you might be thinking, why do I need insulation? The answer is that insulation can also help keep heat out and cool air in, making your home more energy-efficient — and, as you're sure to notice on your monthly electric bill, more cost-efficient, too. Plus, insulation can inhibit the growth of mold and mildew, which is always a bonus in hot, humid climates.
Insulation is packed into your building's structure to provide thermal protection from the elements. Flooring insulation is insulation that is installed under the subfloor between floor joists, which are the horizontal structures that provide a firm framing foundation for a subfloor. This is the same type of insulation that can be found in the walls of a home.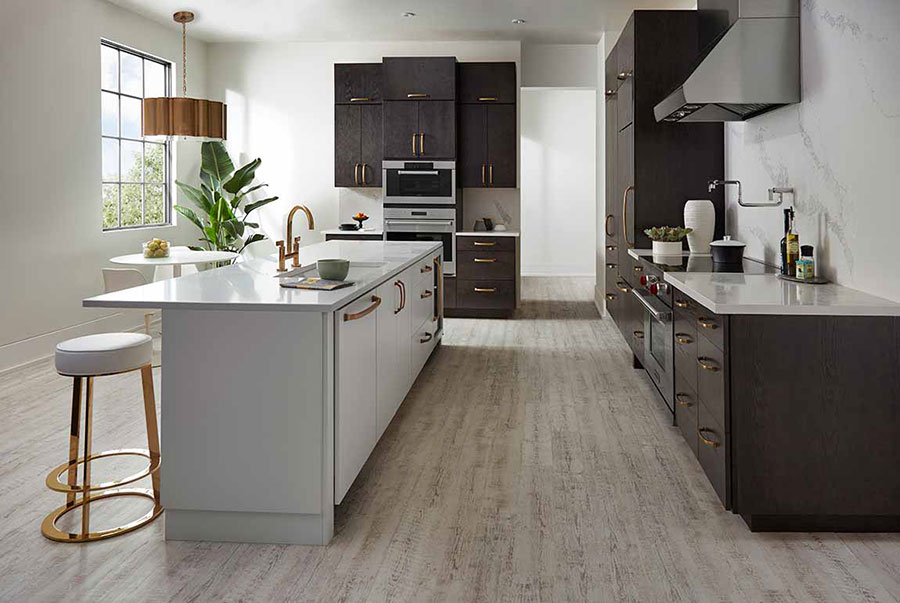 What is Underlayment?
The material that is installed underneath the top layer of flooring is actually called "underlayment." Underlayment sits just above a subfloor and right below your flooring. Underlayment is applied during the installation of new flooring material. The knowledgeable installer will know how and where to place this material. Underlayment is not only an insulator, but it also has many other beneficial purposes.
The Difference between Flooring Insulation and Underlayment
Insulation is used between joists underneath a subfloor and is often applied during construction of the home. Underlayment (as its name suggests) is layered directly beneath your flooring to help buffer sound, add protection from moisture, and create a smoother flooring surface -- compensating for any unevenness in a subfloor. And yes, it can also help better insulate your floors, but insulation and underlayment are two different products.
Does Underfloor Insulation Make a Difference?
In short: yes! Experts estimate that as much as 15% of heat loss occurs through the floors of your home. By choosing a quality floor underlayment when purchasing your new floors, you can prevent unnecessary heat loss, slashing your energy bills in the process.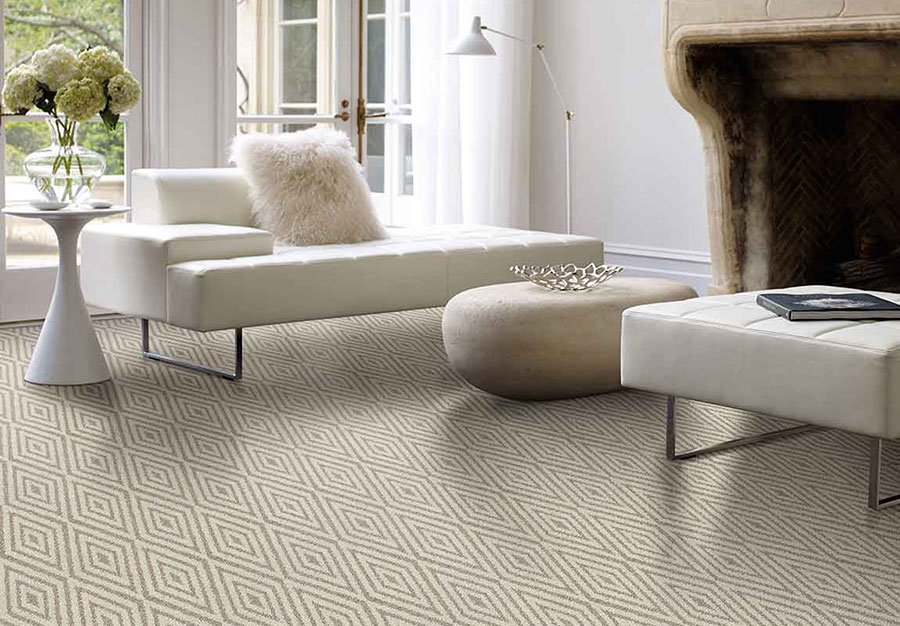 Should I Insulate My Floor?
Ultimately, the decision to insulate your floors comes down to each individual homeowner. However, we strongly recommend using underlayment beneath your flooring due to the benefits it can have for your home. Underlayment can help insulate your floors and is critical to saving heat while keeping your home comfortable. With that in mind, it's often best left to professional installation teams to tackle the project.
What Type of Underlayment Is Best for Floors?
Underlayment comes in a variety of materials, including poly foam, silicone, and even eco-friendly recycled materials (such as rubber and foam composites). Different types of underlayment can also work with your flooring to deliver a quieter tread on your floors when walking, provide insulation, and level out an uneven subfloor. Choosing the right type of underlayment depends on the type of floors and subfloors you are installing it between, and the amount of insulation you require against sound and the elements.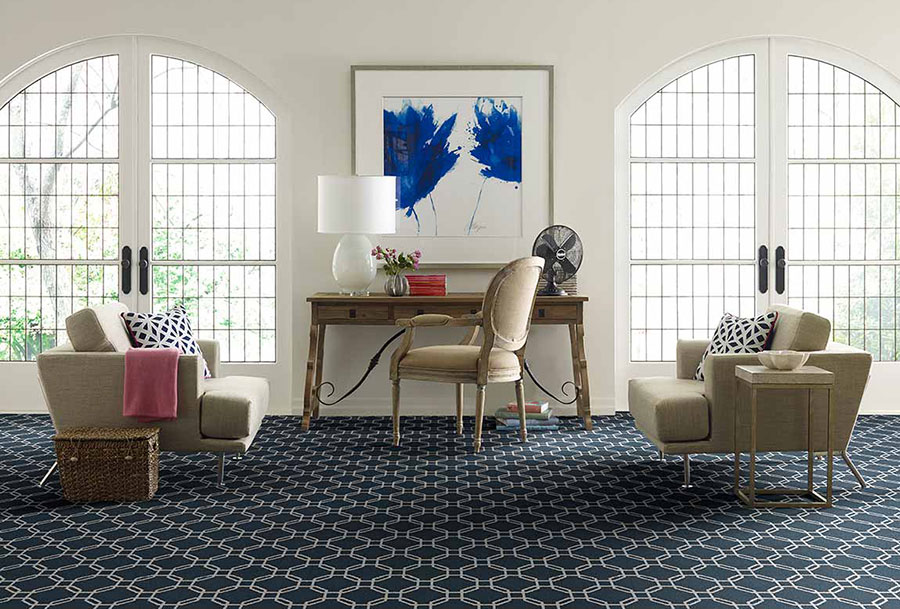 Need Help Installing Floors in Your Home? Ask the Experts at Flooring America
What type of underlayment should you use? How many inches thick? How do you install it? And how do you avoid damaging your floors in the process?
When you work with Flooring America, you don't have to worry about these questions. Our team of professional flooring installers will handle all the heavy lifting for you — literally. All you have to do is relax and enjoy the savings on your energy bill.
Need to get more flooring ideas first? Our design blog has dozens of articles to help you get started — or, check out My Design Finder to see visual examples of style in action. Whenever you're ready to tackle your insulation project, we'll be here to help. Contact us online to get started, or call Flooring America at (866) 439-6743.
Continue Reading