Carpet in Merced & Atwater, CA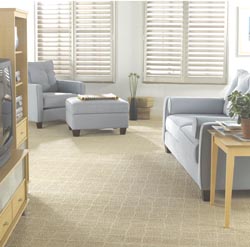 If you need to install new carpet in your house, then visit Tri County Flooring in Atwater to shop through our large inventory of first-rate carpeting. Tri County Flooring has all of your flooring needs covered from supreme carpet options to professional installation solutions. Shop through our store today to preview our discount carpets in unlimited colors and styles.
Upgrading Your Carpet
During personal consultation, we'll observe the style of your home and present beautiful colors such as:
Botanical Garden
Whisper
Frulatti Blue
Mistletoe
Our vibrant carpeting can improve various types of rooms, including formal master bedrooms and casual family rooms. We understand that installing a new floor is an investment, which is why our goal is to suggest the highest quality selections that reflect your lifestyle and add value to your home.
Your Home Carpeting Guide
With so many carpeting choices to pick from, our associates take the time to offer installation and color-scheme tips. We'll make sure that your carpet-selection process is simple and enjoyable, whether you're determining your financial limit or deciding on a particular style.
We showcase diverse carpets, such as frieze or olefin, from recognized companies including:
Our décor experts can help you install carpet that:
Illuminates rooms for an inviting look
Makes rooms seem more expansive
Creates drama and intimacy
Provides a cozy surface that prevents dropped items from breaking
We do what we can to ensure helpful installations and great deals on carpeting prices. Inquire about our floor care tips, financing options and rebates by calling <PHONE> today!



We proudly serve the communities of Merced, Atwater, Los Banos, Mariposa, Livingston, Hilmar, Winton, Delhi, Le Grand, Chowchilla and Catheys Valley, California.