Hardwood Flooring in Atwater, CA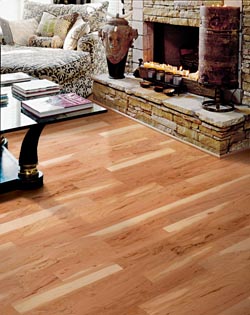 Are you remodeling your home and looking for the perfect hardwood flooring? We have all you need to complete your home improvement renovation quickly. We offer a wide assortment of hardwood floor materials in all colors, patterns, and sizes. We sell narrow and wide plank sizes, and a range of sizes in between. No matter what kind of hardwood floors you want, we have the wide selection and knowledgeable staff to help you find just what you are looking for. In addition, we provide professional hardwood flooring installation.
Hardwood has become a staple of homes that want to achieve a warm, classic feel. But this material is also extremely versatile. With a variety of colors and grain patterns, our floors work with virtually any style motif. In addition, we offer different types of flooring, such as handscraped, solid, and engineered hardwood. Our sales professionals can help you choose the type the best suits both your stylistic and functional needs.
Which Type of Hardwood is Right for You?
Explore our vast inventory to find the kind of hardwood that works best for your home. In addition to housing different stylistic varieties, we also offer floors that serve different functions. Our solid hardwood collection adds unlimited elegance and timeless appeal for any area of the home. Both it and engineered hardwood work well for homeowners who have allergies. Their smooth, non-porous surfaces allow dust, pet dander, and other allergens to be easily wiped clean.
Engineered hardwood may be best for homeowners who want hardwood flooring in every room in the house. That's because engineered wood is made up of multiple layers, making it sturdier and less prone to warping in hot or moist environments. This makes it an ideal choice for bathrooms, basements, and kitchens.
Is your house bright and modern or composed of earthy tones for a classic look? We have all of the most popular wood species, including pine, oak, cedar, cherry, maple, and a large selection of others. We have floors that complement every style, from chic minimalism to rich luxury. No matter what species of wood you desire, we have hardwood flooring manufactured by the top brands, including all of the following:
Hanover Hills™
Rustic River™
Biltmore ECA™
Bruce™
Armstrong™
Mohawk™
Shaw™
When it comes to eye-catching looks, handscraped hardwood floors add lots of style and character. Many homeowners choose them because of their ruggedly attractive appearance. The distressed and hand-finished look of handscraped wood lends a rustic air to any interior space. There are a wide range of colors and textures available so you can find the perfect scraped look for your home. Whether you're aiming for authentic, down-home simplicity, or a subtle and sophisticated style, a handscraped floor is the perfect choice. Our floor design specialists will make certain that your floors match your overall décor vision for your home.
In addition to their looks, handscraped wood floors offer several other benefits. Their distressed appearance helps to hide scratches and dents, making them the perfect choice for heavily trafficked areas in your home, such as entryways and kitchens. Handscraped floors are durable and don't require much in the way of care or maintenance. Simply vacuum them and sweep them on a regular basis to keep them clear of dust and dirt. These floors are a wonderful choice for extra style and durability when you're looking to upgrade the appearance of your home's interiors.
Prefinished hardwood floors offer a number of benefits. First, prefinished wood is extremely durable. Prefinished floors typically have several coats of sealants and strengtheners applied in the factory, before being sent to our showroom. The finishing technologies used by modern flooring manufacturers mean greater value for the homeowner. These floors can last for decades, making them an excellent investment for your home. Most prefinished floors come with a manufacturer's warranty, which means you won't have to worry about running into any problems with your new flooring.
Second, prefinished floors are very easy to install. Because they don't need to be sanded and finished on-site, your new prefinished floors can be quickly installed, so you can start enjoying them right away. You won't have to deal with the noise and dust associated with sanding and finishing being performed in or near your home. This also means that the installation process is very affordable.
Finally, prefinished floors offer stunning texture and color. Factory finishes are very transparent, so you can enjoy the natural look of the wood. These floors are available in a wide range of styles, finishes, and colors, so you're sure to find the perfect floor for your particular style. Get in touch with us or stop by our showroom today and discover our stunning prefinished flooring options.
Striving for Complete Customer Satisfaction with Every Installation
Trust our professionals to give you hardwood flooring you absolutely love. Our Ultimate Confidence Guarantee gives customers several promises that ensure they are completely satisfied with their floors. If, after 30 days, you don't love your 4 or 5-Star rated floors, we'll replace them at no cost to you. We will also pay the difference if you find the same floors for a lower price anywhere else.
Complete your flooring project with experts who understand your specific goals. Our professionals are with you from the start of your project until the end. Because we take the time to get to know your personal style, budget, schedule, and other factors that go into your hardwood flooring purchase decision, you never have to worry about us not being on the same page. Our hardwood flooring installation contractors put your needs first in order to provide quick, quality finished floors.
Our installation services are guaranteed for life. This means we will personally resolve any installation-related problems you have with your floors at our expense. These are only a few ways we ensure each one of our customers ends up with the floors of their dreams.

Contact us today to learn more aobut our hardwood flooring products and installation services. We proudly serve the communities of Atwater, Merced, Los Banos, Mariposa, Livingston, California.