Tile Flooring in Atwater, CA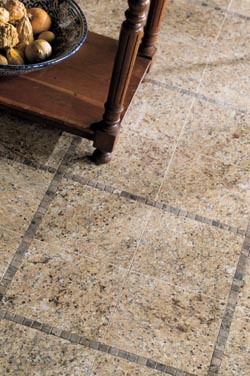 For classic floors that are as easy to care for as they are attractive, you can't go wrong with tile flooring. Let our flooring professionals help you choose what flooring best suits your needs for lifestyle, looks, and budget. Count on us for the best deal in tile flooring in Atwater, CA. We offer premium tile from brand-name manufacturers that transform your home with elegance and style. Discover a wide array of colors, styles, and patterns of ceramic, porcelain, and slate tile at our flooring showroom. Our tile flooring installation professionals guarantee your new floors will look and perform up to your expectations.
Whether you choose ceramic, porcelain, or natural stone, you can depend on our installation professionals for expert service. Backed by thorough training and years of experience, our flooring technicians work efficiently and effectively to install your new floors. Our professionals ensure that your tile flooring is flat and even, and that it looks good and lasts long.
The Many Benefits of Different Types of Tile
Ceramic tile is an excellent option for any household. Ceramic is resistant to moisture, stains, scratches, and heavy impacts, making it perfect for heavy foot traffic as well as for bathrooms, kitchens, basements, and just about any room of a home. Part of what makes ceramic so intriguing is its ease of maintenance -- we recommend occasional dry and damp mopping so your floors always look clean and fresh. Since dust has nowhere to hide in a ceramic tile floor, it's perfect for households in which a member suffers from allergies or asthma.
Porcelain tile is another popular option among home and business owners for many of the same reasons as ceramic. But while all porcelain can be classified as ceramic, not all ceramic can be called porcelain. This is because of how it's made -- porcelain is made from finer clays and blown at higher temperatures, resulting in a denser material with smaller pores. This added density provides extra moisture and frost protection, yielding more applications for outdoor use. The increased density is especially apparent when you break the tile -- if you were to break a piece of porcelain, you would notice that it's the same color all the way through unlike standard ceramic. So if you ever do manage to chip your porcelain tile, it would be very hard to notice any damage.
Both ceramic and porcelain tiles have grown in popularity over the years in part thanks to advancements in modern imaging technology. New tiles are being manufactured to accurately mimic the aesthetic of wood and natural stone. These designs hold up against the closest inspection, allowing for interesting design options for any room of a home. This enables homeowners to enjoy the natural look of stone or wood while taking advantage of the flexibility and durability of tile. Between beauty, ease of maintenance, and design flexibility, it's hard to go wrong with either of these remarkable options.
Slate tile has remained an enduring choice for savvy home and business owners for hundreds of years. As the name implies, slate is mined from deep underground. The material itself is naturally resistant against heavy impacts, moisture, heat, and extreme stress. And although color selection may be limited by what Mother Earth can offer, it's tough to beat the natural allure of slate, as it pairs so well with so many different styles and designs. Maintenance is a breeze as well, as you can expect your slate tile floor to outlast house itself. The price point is a bit higher than other tile options, but the return on investment is apparent through its performance as well as its resale value.
Trust Our Pros for Tile Flooring Installation
When it comes to tile flooring installation, it is one of the most difficult types of materials to install. It takes time, a steady hand, a strong back, and an experienced eye to do the job right. Problems aren't always immediately apparent either, such as tile installed over uneven thin-set. Mistakes like this are dangerous, creating an uneven floor that can be easily tripped over. A problem like this is excruciating to fix, requiring removal and installation of new tile. Don't throw away your home improvement investment on amateur work -- trust your flooring project to someone who can guarantee quality work.
We are confident in all of our services and products, so if you have any problems or concerns regarding installation for as long as you own that floor, we will make them right at no cost to you. Find out more about our strong warranties for products and services that underscore our commitment to satisfying our customers when you schedule an appointment.

Contact us today to learn more about our tile flooring selection. We proudly serve the communities of Atwater, Merced, Los Banos, Mariposa, and Livingston, California.