Luxury Vinyl Flooring in Atwater, CA
A great addition to any home, luxury vinyl flooring allows you to enjoy the look of natural wood or stone floors without any of the arduous upkeep. Whether you're looking to update your old floors or start a new renovation project, our flooring experts at TriCounty Flooring America can help you find the perfect style for your design needs. With extensive product knowledge, we listen to your functional needs, style preferences, and budget to guide you toward the perfect luxury vinyl for your unique project. Further, we offer our professional flooring installations to ensure a job well done that lasts for decades. You can stop by our expansive Atwater, California showroom to find a wide array of luxury vinyl planks and tiles and discuss your vinyl renovation with our friendly team!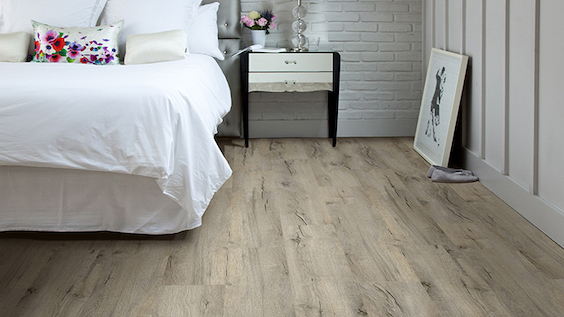 Types of Luxury Vinyl Floors
When you think of vinyl, what comes to mind? Your grandma's worn-out kitchen flooring? Well, we're here to tell you that vinyl flooring has come a long way. Due to upgrades in flooring technology, vinyl floors now rival the look and feel of natural stone and hardwood. All vinyl is designed with the same four plastic layers; however, luxury vinyl floors are a significant upgrade as they're composed of thicker layers that provide a stronger surface.
Coming in luxury vinyl tile, luxury vinyl planks, and sheet vinyl flooring, this material is water-resistant, stain-resistant, and pet-proof, making it the perfect choice for any room, including high-traffic areas of the home. Learn more about the types of vinyl flooring available at our local flooring store:
Luxury Vinyl Tile
Luxury vinyl tile adds a touch of charm and elegance to any space. When it comes to new floors, LVT offers a multitude of options for both residential and commercial property owners. Replicate the magnificent look of ceramic or porcelain with this comfy alternative, which is ideal for bathrooms, kitchens, and other high-moisture areas.
Our LVT is produced with an uncanny tile appearance, with depth and textures to convince even the most observant visitors. Easier to install than true ceramic tile, grouting is not required for LVT. While many people choose this choice for a porcelain, ceramic, or marble look, wood-look LVT is also available.
Luxury Vinyl Plank
As one of our most popular products, luxury vinyl plank is the ideal compromise for families that enjoy the look of hardwood floors but desire more comfort and longevity. LVP has a softer feeling underfoot and can tolerate spills, heat, and foot traffic that can cause natural wood floors to warp.
The top layer of LVP is formed utilizing advanced photographic technology, resulting in a stunning decorative layer that draws attention with authentic-looking whirls and grain patterns. Our LVP inventory contains everything from mahogany's rich crimson hues to the delicate, soft tones of birch and oak. Popular LVPs are our long, wide planks with beveled edges for a rustic or clean, classic look.
Sheet Vinyl Flooring
Sheet vinyl flooring is our most durable and watertight type of luxury vinyl flooring. It is cut to fit your space without any seams. Popular in commercial spaces, sheet vinyl floors offer reliable durability in a variety of patterns and styles.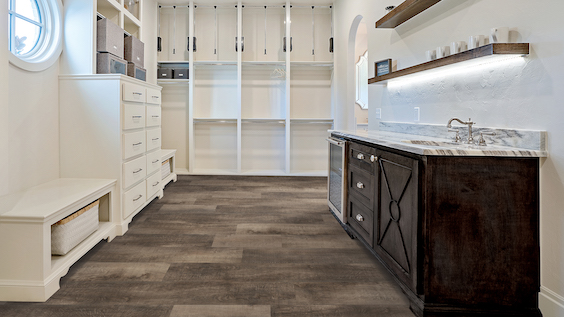 Where Can Luxury Vinyl Floors Be Installed?
Luxury vinyl floors are perfect for a variety of applications in both residential and commercial spaces. For heavy commercial or rolling loads, we recommend a glue-down vinyl plank to maximize sturdiness. In residential spaces, floating click floors offer the best flexibility and staying power for a quick and easy renovation. From laundry rooms, bathrooms, kitchens, basements, hallways, and more, you'll enjoy vinyl's waterproof durability. Some of our luxury vinyl customers include the following types of properties:
Residential Homes
Apartments
All Types of Rentals
Multi Family Homes
Commercial Properties
Schools
Benefits of Waterproof Luxury Vinyl Flooring
As one of our most popular flooring options, our entire selection of luxury vinyl is 100% waterproof, making these floors an easy choice to install in any room of the home. Since luxury vinyl performs well in areas with high moisture content, you can get hardwood or natural stone looks in hard-to-reach rooms like your bathroom, laundry room, and basement.
At Tri Country Flooring America, we carry luxury vinyl flooring brands from the top suppliers in the flooring industry at budget-friendly prices, including Mohawk, Shaw, Coretec, Aquarius, Republic, Mission Collection, Palacio, and Mannington. Enjoy all of the following benefits when you choose luxury vinyl floors for your home or business:
Adds natural warmth to kitchens and living spaces.
Dent-resistant durability that performs well in high-traffic areas of your home.
Available in a range of stunning wood and tile designs.
Waterproof makes for easy cleaning and less worry.
Scratch resistance thanks to a wear coating.
Sound absorption technology thanks to the foam backing.
Improved thermal insulation to keep you warm in the winter.
Professional Vinyl Flooring Installation With Our Experts
Purchasing new floors is a big investment, and we recommend using our team of professionals to install your new vinyl floors. With the proper installation, vinyl flooring is resistant to dents and scratches and can last for many years. Our professionals will handle all the installation details so that you don't have to worry about mistakes in the process. They come equipped with the best tools and industry practices to ensure an efficient installation, allowing you to begin living on your beautiful new floors almost immediately.
Your complete satisfaction is of the utmost importance to us, and thanks to our Adore Your Floor Guarantee, you can rest assured knowing that you are getting the best warranties in the field. This is our guarantee that if you are unhappy with any aspect of your new floors, contact us within 30 days and we will replace them at no cost to you.
Contact us today to begin your journey to beautifully durable luxury vinyl floors. We proudly serve Atwater, Merced, Los Banos, California, and the surrounding areas.