Vinyl Flooring in Atwater, CA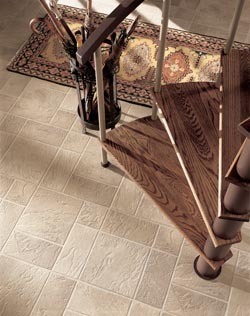 Achieve the perfect home makeover when you use our vinyl flooring in your kitchens and bathrooms. At our company, we feature a wide range of options for your vinyl sheet flooring. From tiles to planks, you'll find the perfect product to meet your unique needs. Our inventory includes stunning color and pattern choices to add a touch of elegance to any room. And with our free estimates and other special offers, you'll never overspend on your services when you turn to us. Our company offers a range of vinyl types, including sheet, tile, and plank flooring.
Give your home a look that fits your specific design tastes and budget. Thanks to the latest advancements in production, design, and manufacturing, vinyl is a truly versatile material that looks great in any room. In fact, the printing process allows vinyl to mimic the appearance of hardwood and stone material, all while keeping the costs low for you. In addition, you can even choose from a plethora of unique designs for an interior that is uniquely yours.


Affordable Vinyl Sheet Flooring
When you are searching for affordable vinyl sheet flooring for your home, let our crew provide you with the perfect solution. Whether you are updating your current residence or crafting a new structure from the ground up, you'll find quality products at budget-friendly prices at our store. We specialize in vinyl sheet flooring that adds style to your room at an affordable price.
Our stock includes patterns that offer the luxury look of slate and marble without the high price tag. With all of the design options to choose from, you are sure to find the perfect style to match your décor. We are happy to help you choose the right color and texture to fit any home.
You need a floor that withstands daily wear and tear without sacrificing aesthetics. Vinyl endures the rigors of daily life and more. It resists rips, tears, stains, and gouging. Despite these tough characteristics, vinyl is much softer compared to hardwood and stone. You and your guests will appreciate just how much a joy walking on vinyl really is.
On top of that, vinyl flooring is inexpensive to clean and maintain. Vinyl is waterproof and stain-resistant, making it the perfect option for kitchens and bathrooms. All you need for cleanup is a damp cloth and an approved cleaner. It never needs to be refinished like wood. In addition, if your vinyl tiles or planks are damaged, all you need to do is replace the damaged segment instead of a complete reinstallation.


The Durability of Vinyl Tile Flooring
Let your creativity flow with vinyl tile flooring. Available in portable, easy-to-install segments, vinyl tiles provide a wealth of customization options for your home. Choose from stone, hardwood, or specialty patterns, and arrange them however you like. You are limited only by your imagination.
Choosing a low-maintenance flooring material is an easy way to make a smart investment in your residence. Vinyl tile flooring is one of the most durable materials on the market. We carry a full collection of water-resistant tiles that require little to no maintenance. With the proper installation, vinyl tile flooring is resistant to dents and scratches, and can last for up to 20 years at your home.
With all of the things you have to do as a homeowner, taking care of your floors should be an easy and stress-free process. Due to its distinctive texture, vinyl tile flooring is easy to maintain and keep clean. This material is an ideal option for busy singletons and families living with small children or pets.


A Bold New Look with Vinyl Plank Flooring
Add five-star style to any room when you choose our store for your flooring. For a luxurious look without the luxury price tag, our store carries vinyl plank flooring in a range of style options. Plank flooring adds natural warmth to kitchens and living spaces with the same durability you've come to expect from vinyl tiles. Available in a range of stunning wood designs, our quality flooring planks make a beautiful addition to any room in your home.
Vinyl plank flooring offers the stunning visual impact of wood at economic prices. The specialty printing process allows vinyl planks to mimic a wide array of wood species, including color, grain pattern, and even knots. Plank flooring combines the beauty of wood while remaining cost-effective.


Hassle-Free Vinyl Flooring Installation
Selecting the perfect material and style for your home is only half the challenge. Once you've decided on your new flooring product, we are available to complete your installation to the highest standard. Our experienced team of technicians performs a full vinyl flooring installation in any room. We handle all of the details so that you are free to enjoy your smooth new surface without stressing over installing your materials on your own.

Contact us today to learn more about our fabulous selection of vinyl flooring options. We proudly serve customers in Atwater, Merced, Los Banos, Mariposa, and Livingston, CA, as well as the surrounding areas.