The Advantages of Choosing Wood-Look Tile in Atwater, CA, for Your Home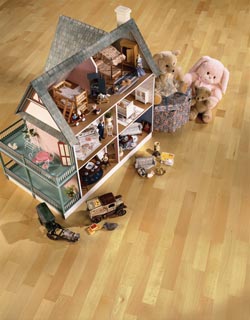 Many of our customers love the look of hardwood plank but may prefer a more practical floor covering in their home. Well, at Tri County Flooring America, we have an option that offers you the benefits of both. Let us show you our wood-look tile in Atwater, CA.
Rich with the details of wood, such as grain and patterns, this selection is manufactured to satisfy your need for beauty and functionality. In our flooring showroom, we have an abundant selection of wood-plank porcelain and ceramic tile in a wide array of brands, species, colors, and finishes. Shop with us today to choose this flooring for your home.
Combining Realistic Appeal with Ease of Maintenance
What first captures the eyes of our customers is the realistic appearance of ceramic and porcelain wood tile. It so closely resembles hardwood plank that it's difficult to tell the difference. Of course, this offers you all the wonderful decorating possibilities that are part and parcel of wood-grain tile.
We're very fond of the appearance of this product. With grout applied between the individual tiles, you have a flooring option with a unique appeal. However, beauty is just one of the benefits of this floor covering. For instance, this flooring doesn't contract or expand in the presence of moisture and humidity. Since wood tile is water resistant, you can use it in rooms where water is present, such as the basement, bathroom, or kitchen. This is why our wood-look tile is perfect for remodeling the kitchen, bathroom, or basement.
A bonus with this type of flooring is its stable temperature. Tile remains cool underneath your feet, which is an advantage that's welcome in an area like ours where the temperatures can soar.
To make sure this flooring is installed for long-lasting beauty, ask us about professional installation. We'll be happy to send a team of technicians to your home to ensure it's installed for maximum performance and appeal.
And, now that you've picked wood-grain tile for your home let us share with you the best cleaning methods. Tile offers easy care with little maintenance. To clean, sweep the surface free of dirt, then apply a manufacturer-recommended tile and grout cleaning solution to the surface. Mop and rinse and then dry mop to pick up any residual solution. Now, your flooring now looks as good as new.

Contact us today to see our selection of handsome wood-look tile flooring. We proudly serve customers from Atwater, Merced, Los Banos, Mariposa, and Livingston, California, as well as the surrounding communities.